Anime-SPARK! 2012: Thank you! This year was great!
Winter Anime Con in Iowa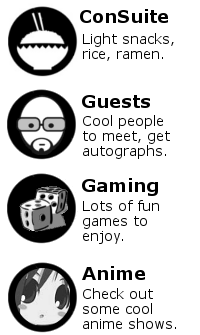 February 16-19, 2012
Clarion Hotel & Convention Center
525 33rd Avenue S.W.
Cedar Rapids, Iowa 52404
Reservations: 877-949-2992

Anime-SPARK! was made by the same fun people that run QC Anime-zing!
QC Anime-zing! Official Website
Produced in coordination with:

Anime-SPARK!
The first winter anime convention in Iowa - featuring special guests, cosplay, gaming, and more. Cure those wintertime blues with some anime convention fun!
Registration
is only $35 at the door. One price gets you access to the conference for the whole weekend.
Read the FAQ
Tell us who you are!
- If you can't register right now, at least make us happy and give us your name and email! We use this information to predict attendance, and send important convention announcements.
When is Anime-SPARK!?
Anime-SPARK! is a winter anime convention that is going down February 16-19, 2012. We chose the winter because it's one of the best times of the year to get cheap hotel rooms - so you can travel for hours and stay with us for only $89 a night.
What is an anime convention?
A gathering of geeks and nerds! Mostly geeks and nerds that have seen at least one anime show - maybe from Adult Swim or with a friend. We have rooms that show anime and guests of honor that have voiced anime and video game characters. There's plenty for people who only like one or two anime shows though, with dances, video games, and beyond (some come who don't like anime at all because we have that much fun).
Where is this anime con going to be?
At the Clarion Hotel & Convention Center in Cedar Rapids, Iowa. Cedar Rapids is less than five hours from major cities like Chicago, Minneapolis, the Quad Cities, and Des Moines.
Who should go?
Anyone who is even remotely geeky or nerdy would probably love us. While most of us like Japanese animation (anime), not everyone is a major fan. We're excited to have lots of events that you'll really enjoy.
Why Valentine's Weekend?
It was an easy date to book for hotels, and we could come up with some cool even themes for this winter anime con. Our host club, date auction, and formal ball dances are some excellent examples.
How do I attend?
You can
register
in advance or at the door. We appreciate if you register and pay in advance, and we give you a discount for doing so since it makes our planning easier.